A letter has surface online written by the Abia State Government, signed by the state Governor,  Victor Okezie Ikpeazu has caused mixed reactions among the IPOB.
The letter was allegedly written by Abia state Media and Publicity Secretary, Comrade Emma Powerful and was allegedly signed by the governor.
The content of the letter has set Nnamdi Kanu the leader of the Indigenous People of Biafra as died and yet to be buried.
Below is the content of the condolence letter in full.
Ref. GH/ABSG/102
2nd May. 2020
Comrade Emma Powerful.
Media and Publicity Secretary
INDIGENOUS PEOPLE OF BIAFRA.
The Abia State Government has received with great shock, the news of the untimely death Of its illustrious son, founder and leader Of the Indigenous People Of Biafra (IPOB), Mazi Nnamdi Kanu.
It is unfortunate that Mazi passed on a few months after his beloved parents were buried. The late Mazi will be remembered for his energy, resilience and doggedness in advocating for the freedom Of his followers.
His memory and legacy will forever be cherished and engraved in our hearts. We pray that God in his infinite mercy will grant his family and the entire people of Afaraukwu-lbeku the fortitude to bear the irreparable loss. May God comfort all those he has left behind.
Though the Abia State Government believes in the unity, indivisibility and indissolubility of the Nigerian State as enshrined in the Constitution, it hopes that the demise of Mazi will open a new vista of opportunity for IPOB to join other well meaning Igbo sons and daughters to pursue a Nigeria in which equality, equity, peace and progress will define our nationhood.
While the interment and Other burial rites are being awaited, the Government enjoins all Abians and IPOB members to remain calm, peaceful, law abiding and go about their normal businesses.
It is also the desire of Government that everyone stays safe and observe all advisories relating to the containment of the Covid-19 pandemic in our State.
May the soul of Mazi and all the departed rest in peace. Amen
Okezie Victor Ikpeazu, Ph.D.
Governor, Abia State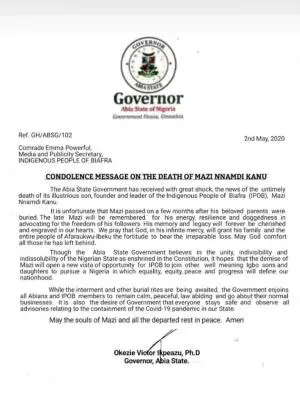 This letter has made many wonder if Nnamdi Kanu is dead as claimed by the Yoruba journalist, Kemi Olunloyo.
Reactions have also surfaced online as many people have debunked the claim saying that the letter was a product of photoshop and fake.
On the other hand, Nnamdi Kanu has not directly reacted to this claim but says he would be live on facebook broadcast today, 3rd of May, 2020 at 7pm GMT