President Muhammadu Buhari has ordered the Nigeria Custom Service to released seized items such as Rice, Vegetable oil and fabrics for distribution to Nigerians.
President Buhari ordered Custom to release seize rice to Nigerians
President Muhammadu Buhari has on April 6, 2020 directed the Nigeria Custom Service to release 150 truckload of seized rice for distribution to Nigerians as a palliative measure towards cushioning the effect of coronavirus pandemic and the resultant lockdown on Nigerians.
In a swift move, the Nigeria Custom Service in a press statement released today by Deputy Comptroller of Customs DC, Joseph Attah the Public Relations Officer of Customs.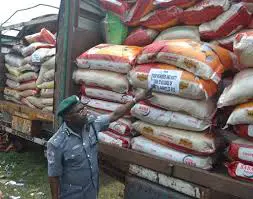 The outbreak of the deadly Corona Virus (Covid-19) necessitated various and continuous actions by Government at different levels to prevent/stop the spread of the virus in Nigeria.
1. Rice 46,000 metric tons (158 trailers)
2. Vegetable oil (251) 36,495kegs (30 trucks)
3. Palm oil 3,428 kegs (1 truck)
4. Tomatoes paste 136,705 cartons (54 trucks)
5. Spaghetti/Noodles 2,951ctns & 1,253pkts (2trucks)
6. Wrappers (Ankara) 828 bales (ltruck)
7. Lace fabric 2,300 Rolls (1 truck)